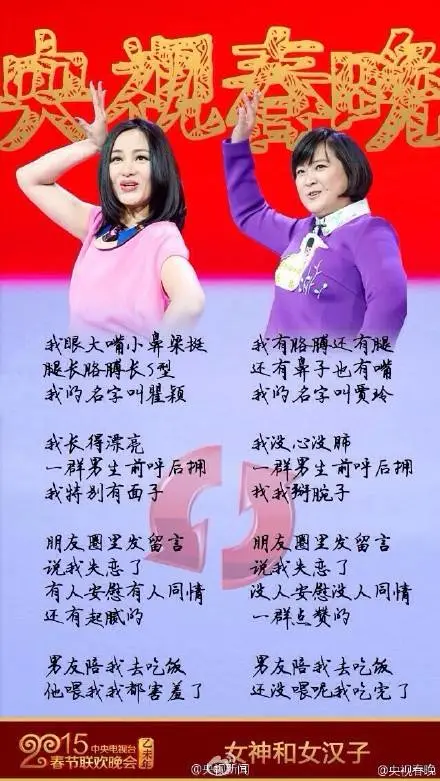 It's the Chinese New Year again. Besides lunar new year mainstays such as fire crackers and Jiaozi, watching the CCTV's (China Central Television) Spring Festival Gala has been "a force of habit"(CNN) since its debut in 1983. "Combine the viewers of the Oscars, Emmys, American Idol finales and MTV Video Music Awards — then throw in the Super Bowl ratings for good measure — you are not even close," CNN provides a reference to understand the magnitude of the annual variety show. This was proudly broadcasted by CCTV as a somewhat envious compliment. (Yes, we in general hate the biased "Western media", but never hesitate to quote them verbatim when they compliment.)
To many viewers this year's show was nothing special. Ever since the diversification of entertainment became possible in the late 90s, the appeal of the show has started its gradual decline. Long gone are the days when a catch phrase in the show becomes a permanent establishment in the Chinese language almost over-night. Today, comedians have to borrow heavily instead from the vibrant internet world for puns and jokes that to some viewers are already too outdated to be relevant. For a person like me, the show has become a kind of background noise of which the only function is to remind people that it's the New Year's Eve.
But this year, in addition to the regular ridicules and parodies of the stupid show (which have become more fun than the show itself with the emergence of social network sites), a very serious conversation started to develop as soon as the show was over. It turned out that many female viewers were deeply offended and disturbed by the values expressed in the show. More specifically, they were aghast to see how a 4-and-half-hour show could squeeze in so much content demeaning to women in each and every way.
Imagine if NBC aired a comedy sketch that features a punch line comparing women with sexual experience to "second-hand products" and genuinely expected it to be funny (not as a ridicule of such references), or if the theme of a 10-minute sketch on the Academy Award show was about two men telling a "female loser" (30-year-old, single and overweighted) how to pick herself up by having an attractive super model as her role-model, with all sincerity. (This is of course not to say that Hollywood does not have its own problems with the portrayal of women.)
This was what ACTUALLY happened in front of 700 million pairs of eyes on the night of Feb 18, if CNN's viewership figure is correct.
Many female viewers were fuming with anger. The hashtag #spring-festival-gala-discriminates-against-women (#春晚歧视女性) on Weibo accumulated over 5 million clicks in only 24 hours after the show.  A popular post (with close to 20,000 re-posts) describes the show as a complete collection of discrimination against women, "from appearance discrimination, to job discrimination, to marriage discrimination, to the objectification of women as a whole." Serious critiques of the show quickly appeared on sites such as zhihu.com (a Q&A site similar to Quora). In one of the most viewed posts, the author cited the objectives set by the 1995 World Women's Conference (held in Beijing) for "women's representation in the media," one of which was to "promote a balanced and non-stereotyped portrayal of women in the media." The author then asked pointedly if China's national television station was promoting or actually impeding the achievement of this objective set 20 years ago.
What those female viewers find even more disconcerting is that neither CCTV nor those participating in the show (including many actresses) seem to consider this a problem. Indifference proves to be a bigger challenge for advocates of women's right. Therefore, many of the commentators voluntarily took up the educational and enlightening role, disseminating arguments about why women should speak up and openly resist such treatments that they considered repulsive. Some of them started to spread images that they claimed to represent women's deteriorating situation in Afghanistan, implying that it was largely due to women's quiet acquiescence of injustice (even though such simplistic depiction of the Afghan situation met with strong skepticism).  Petitions were quickly put in place to call for CCTV's open apology.
Such sentiments do not resonate with everyone. Accusations that such criticism is unfair and over-reacting have dogged the debate from the very beginning. There are also self-professed "feminists" offering counter-arguments that women should not feel entitled to treatments not proportional to their own capabilities, calling criticizers of the Gala a "feminist cancer." From this mixture of rebuttals emerged a more comical "school" of thinking that the criticism represents "a blind adoption of Western values." (Not surprisingly many upholders of such views are men).
Yet again, in the discussion of the world's most watched variety show, two unconnected parallel universes appeared in China. When the heated debate about women's representation by the Spring Festival Gala was still far from over on social network sites, China's mainstream media outlets, CCTV included, were busy selling a different story about the show: "Anti-corruption themed sketches considered the most 'edgy' in the show's history."
The country acts as if it has watched two different Spring Festival Galas.